Personal Financial View™
Personal Financial View™ is an essential component of Our Wealth Management Solutions.
Click on the logo below and read on to learn more.
Existing Personal Financial View Users, click here to log in.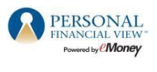 Your Time is Valuable. Let us Work for You.
Baystate Financial strives to help clients achieve success in their business and financial goals. We act as advocates for you, your loved ones, business partners and employees. Our intellectual capital will put some of the best minds in the business to work on strategizing your individual plan to help you meet your lifetime and legacy goals.
Through our holistic planning approach we can help you coordinate a strategy to accomplish your financial objectives. Integral to this wealth management solution is the personalized web site and custom account services that Baystate provides. This technology platform, which we call Personal Financial View™, puts all of your key financial data and critical documents at your fingertips. We will work with you on strategy, implementation and ongoing monitoring and updates.
Personal Financial View™ is a web-based technology solution built to streamline and help improve your wealth management capabilities. This password protected, secure and encrypted personal website is accessible only to you and your Baystate Financial Services advisory team. Through it, you can access your financial information in one secure location from anywhere, at any time. You and your Baystate advisory team can collaborate on-line, sharing the same information from remote places at the same time.
Financial Integration - All of your financial data is housed in one place, including your investments, bank accounts, loans, insurance, and mortgages.

Spending and Budgeting - Automatically track your household spending. Create a budget and align your spending to stay on track.

On-Line Document Storage - Scan and store all of your important legal, financial, and personal documents in one place.

Up-to-date and Custom Reports - A suite of reports updated through linked accounts.

Research Tools - Displays MarketWatch stock data or data specific to the securities of your choice.

Awards Manager - Track frequent flyer miles, hotel rewards points, credit card rewards and other points programs.
Ask us how this state-of-the-art, secure, web-based financial consolidation tool can place all of your critical legal and financial components in one user-friendly dynamic place.