Serving Southern New England's financial planning and wealth management needs. Let us help protect your family, income and future.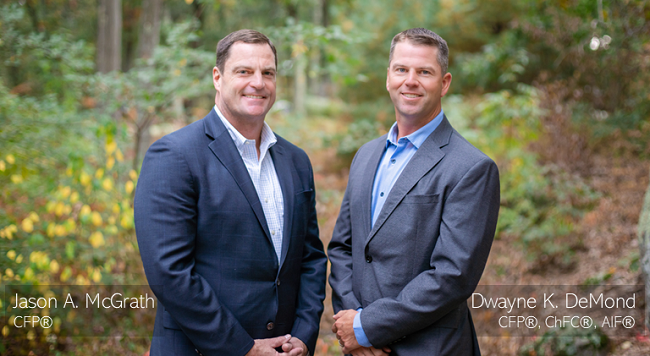 Our mission is to provide sophisticated Financial Planning and Wealth Management advice to our select clients by designing personalized strategies in the areas of Wealth Accumulation, Wealth Protection, Wealth Distribution, and Wealth Transfer.
We aspire to build enduring relationships with our clients based on mutual trust, mutual respect, and an overriding commitment to helping our clients maximize their financial success. We strive to provide our clients with the financial confidence they desire by having a solid team of highly qualified, dedicated, and experienced professionals by their side.
Let us help you take that initial step in turning your financial dreams into a well-defined reality. Contact us today.
Dwayne K. DeMond, CFP®, ChFC®, AIF® Jason A. McGrath, CFP®
CERTIFIED FINANCIAL PLANNERTM practitioner CERTIFIED FINANCIAL PLANNERTM practitioner
Financial Advisor, Financial Services Representative Financial Advisor, Financial Services Representative