Wealth Management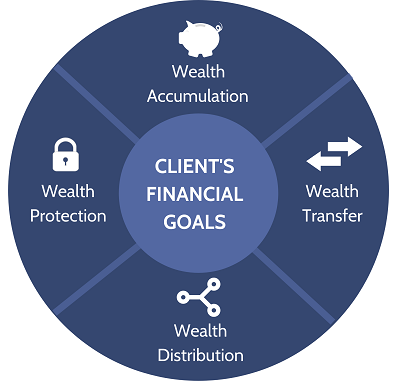 Wealth Accumulation
We develop, design, and implement personalized strategies to help accumulate wealth for our clients. Whether the goal is to build a retirement nest egg, create funding to invest in children's education, or focus on other major life events, we work together in customizing a personalized plan for our clients. After an accumulation strategy has been implemented, we will mutually define an ongoing review schedule to monitor and track progress while keeping the strategy up-to-date.
Wealth Protection
We identify, assess, and address risks in a financial plan, striving to give our clients the peace of mind that their families, assets, incomes, and businesses are protected. Evaluating our clients' protection needs is both a proactive and necessary step to ensure continuity of both a family's lifestyle and a business's success in the event of an unexpected life changing event.
Wealth Distribution
When our clients are ready to transition from the wealth accumulation phase of planning to the wealth distribution phase, we advise them on the various critical distribution decisions required. We help our clients identify the best options to distribute their assets in order to derive a desired, sustainable income stream to meet their retirement income needs. In this phase, we prepare for the risks involved in retirement distribution such as inflation risk, longevity risk, and sequence of return risk.
Wealth Transfer
We work with our clients to effectively and efficiently plan for the eventual transfer of assets across multiple generations to help create a positive impact on a family's wealth into the future. In addressing our clients' overall estate planning, we help our clients design a legacy that is important to them while preserving their family values and wealth assets for future generations.